Update

It is quite rare in the Z88 world when many things happen at the same time, but they have.
Here is a variant of the Card Case allowing access to the PCB. Not required for the usual Z88 user.

Card Case History


When Cambridge Computer manufactured the Card Case, they used a mechanical press to squash the top of the 4 plastic pins that held it all together.

This was a cost-effective way, but not necessarily the best solution.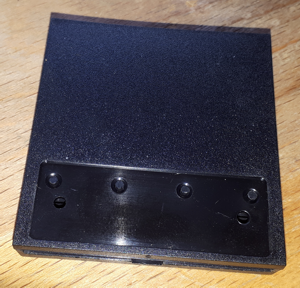 The Flash cards supplied later used small self tapping screws.

These worked well but occasionally failed leading to "The external card problem."


Initially, an enterprising Z88 User designed a stronger case using nuts and machine screws. This used the existing Cambridge Computer top part of the case. This was then followed by several designs.
Card Case Mk 1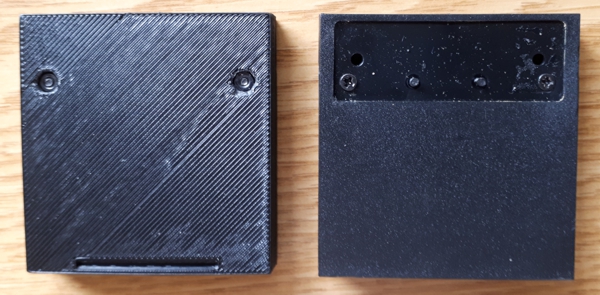 The 2 machine screws here are just at the connector end replacing 2 of the pins, preventing the card from coming apart.


We can supply the following for the older MK 1 design upon request.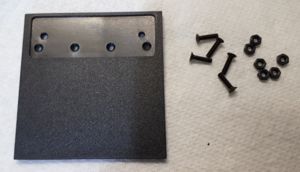 Card Case Mk 2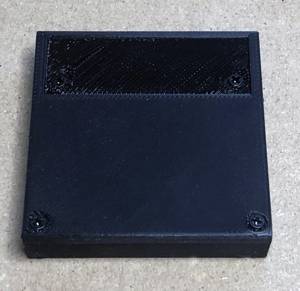 This a picture of the latest 4 machine screw design, which is all printed by the 3D printer. This is stronger and has now replaced the 2 machine screw design.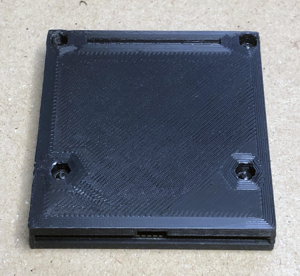 This ensures that the 38 connections are made giving greater reliability. Initial results from users are encouraging. If you are experiencing this issue, consider changing the case.

The Cambridge Computer cards two chamfered corners need filing down by about 1mm to allow the cards to fit in the new case. This won't compromise any of the circuit. The original metal labels should be carefully peeled off and glued to the new case.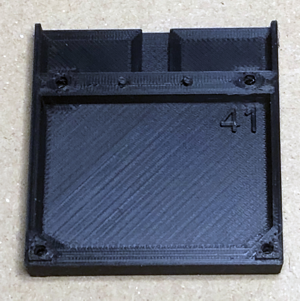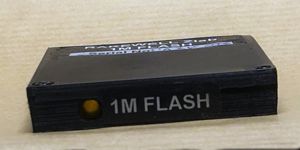 3D Printer Details
We are indebted to
Martin Roberts
for the 3D Printer Design that he did for the Community.

If you have a 3D printer, download
the program and
designs from the
Z88 Internet Links
. on the right - under
OpenSCAD and
Z88 3D Printer Card Details. This is his original design not the improved design shown on this page.
Card Case and Machine Screws
Note:

The case is supplied as two parts of the new case connected with four machine screws. The four nuts are embedded in the bottom half.

This picture shows the two halves which are then screwed together with the PCB (not supplied) in the middle.

If you print your own, we can supply the following:

(Prices in the table below).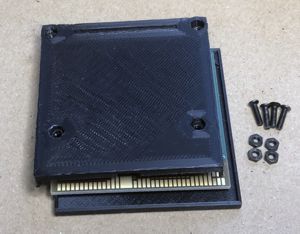 Replace Card Case
Alternatively, we are offering a service to replace the case on your Z88 cards be it
RAM
Flash and update OZ software
Or EPROM Cards
Return your card today with £30 which includes UK
Royal Mail Signed For® 2nd Class & VAT


On the other hand, if you are not experiencing problems, you could just
These have the latest case and software fitted as standard. Erase your existing flash card and use it to store extra files.

Description
Price
VAT
Total
Cable - Printer (Parallel)
£34.00
£6.80
£40.80
Cable - Printer (Serial)
£5.00
£1.00
£6.00
Card Case

£6.66

£1.33

£8.00

Card Case (machine screws and nuts only (4 or 2)

£4.00

£1.00

£5.00

Carrying case
£6.95
£1.39
£8.34
Flash EPROM (1M)
£45.83
£9.17
£55.00

Flash EPROM (1M) LED Upgrade


£15.00

£3.00

£18.00

Flash EPROM (512K) / 512K RAM

£49.17
£9.83
£59.00
EPROM Card (32K)

£16.67

£3.33

£20.00

EPROM Eraser
NONE LEFT
EPROM Card (128K)
£25.00
£5.00
£30.00
EPROM Card (256K)
£49.17
£9.83
£59.00
Keyboard

£20.00

£4.00

£24.00

Keyboard Membrane

£20.83

£4.16

£25.00

Mains Adapter (220v)
£8.95
£1.79
£10.74
Modem 300/1200-software & cable
£25.00
£5.00
£30.00
Modem
£10.00
£2.00
£12.00
Power Supply (90-264v)


Note: LOW STOCK - will be discontinued

£30.00
£6.00
£36.00
RAM pack (1M) (low power)

£49.16

£9.84

£59.00

RAM pack (1M) (CC)

£40.83
£8.17
£49.00
RAM pack (512K)
£37.50
£7.50
£45.00
RAM pack (128K)
£20.83
£4.17
£25.00
Topper - Heavy Duty Version Out of Stock