The Z88 to PC Lead consists of the moulded 9 way plug that fits into the Z88 correctly and has a 25 way female connector for the PC's COM port (which was the standard connector when the Z88 came out). Most computers now have a 9 way plug for the COM.1 serial port. An adapter lead (9-25 way) is also suplied. This is used on the PC end.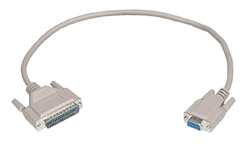 If the cable you have has a 25 way male connector - it is the serial printer cable, you cannot use it for the PC,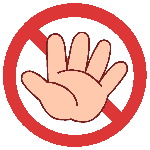 Some users have been tempted to 'build their own' only to find that the cover that fits over the plug stops the plug from fitting into the Z88 correctly.


If you really want to do it yourself make sure
you use a moulded plug with the locking screws removed to fit into the Z88 and
have the correct connections (it is not a standard cable)
- or better still just buy this correct cable.

USB Serial Adapter should work, as long as Windows sees it as a serial port you should be OK.

The trick is to look up which com port the PC has allocated it to and let the program you are using know which com port it has used!


Available on the web. Click here to search on Google.